Organic food is delicious and good for our health and the environment.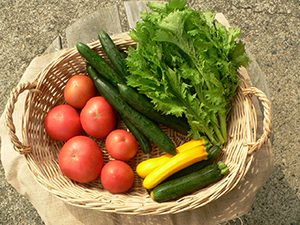 There is a remarkable difference in the taste of agricultural products grown without chemicals and chemical fertilizers, meat from livestock raised in a stress-free environment with safe feed, and products made from safe, natural ingredients. Many of our customers tell us how much they enjoy the natural taste of our vegetables, fruits and other foods. Our hope is for as many people as possible to enjoy the taste of delicious, healthy organic food. Organic food is good for the environment as well.
Products
Select Products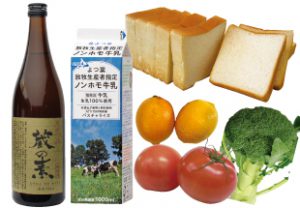 Kanazawa Organic Club selects products based on our high standards. In addition, we provide our customers with information on the farmers and manufacturers from whom we source our products, and on the ingredients of our processed products. We do not handle products containing antioxidants, preservatives, or artificial coloring, or other additives which have not been proven to be safe.
Examples of our select products:
Chemical-free rice and vegetables grown with organic fertilizer or no fertilizer
Fruit grown using fewer chemicals
Postharvest-free Balangon bananas from the Philippines
Milk, dairy products (Dairy farming in large pastures)
Bread made from domestic wheat flour, without chemical additives
Meat (chicken, beef, pork) from livestock raised on safe feed and animal- welfare-oriented feeding
Free-range eggs
Seafood, processed marine products (No farmed fish or additives)
Seasonings (No chemical additives)
Soap, powdered soap, etc. (Synthetic detergents are not allowed.)
Cosmetics made without the use of tar-based pigments
Products made from organic cotton, safety-oriented products






How to Join
From Trial Purchase to Entry
Trial Purchase
You can purchase products for four weeks without becoming a member.
Please send an e-mail from the INQUIRY tab or to the following address: info@kanazawa-organic.com. We will send our catalogs to your postal address.
Please place an order by e-mail using the ORDER FORM. ※1
When we deliver your orders, we attach a delivery slip and a post office money transfer form.
Please pay from a post office or your bank. The money transfer fee for payment is requested to be borne by the payer.
If you wish to continue purchasing, it is necessary to sign up for the membership.
※1 You can also order by filling in the order sheets and put them in a delivery box from the second time. We will collect them and put a new catalog in a delivery box.
Sign-up
If you wish to join our club, please contact us by e-mail. We will send you the following documents.
Membership sign-up form
Automatic withdrawal application form (via bank or post office)
Fees
Entry fee: 2,000 yen
Annual membership fee: 1,000 yen
Delivery fee: 200 yen/time


We will charge the annual membership fee in the entry month of every year. The entry fee and annual fee will not be refunded even if you leave our club. Delivery fee (200 yen) will be charged every delivery in addition to your orders.
Delivery System
Product catalogs and order sheets are delivered once a week. Our catalogs are classified into four patterns: 1st-week, 2nd-week, 3rd-week and 4th-week catalogs. Also, products are classified into four groups: products that can be purchased every week, every two weeks, once a month and once a few months. Our catalog includes a products list that you can purchase in the week and topics related to food safety, farm producers, etc.
We will deliver your orders in boxes to a place specified by you. We also collect boxes used for the previous orders. Please put the order sheets for the next week in a box to be collected.
<Payment>
The payment is to be made by automatic debit from your account. The prices of your orders are added up at the end of the month, and a bill will be delivered to you in the following week. The amount is withdrawn from your post office or bank account on the 17th of every month; however, until your automatic debit has been set up, please pay the amount at a post office or a bank. (It will take about one month to set up automatic debit). The entry fee and annual membership fee will be charged along with the amount of your orders at the end of the first month after entry.
Shop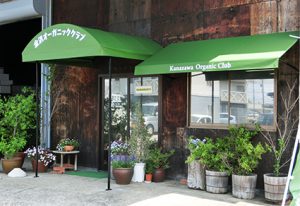 Products that we are dealing are on exhibit and sale in the shop. You can confirm the products and their ingredients. Please check the location with the access map.
Access
Kanazawa Organic Club Co., Ltd.
5-222 Oshino, Nonoichi, Ishikawa 921-8802
Tel: 076-294-320 Fax: 076-248-1662
E-mail: info@kanazawa-organic.com
Magnified view
Inquiry